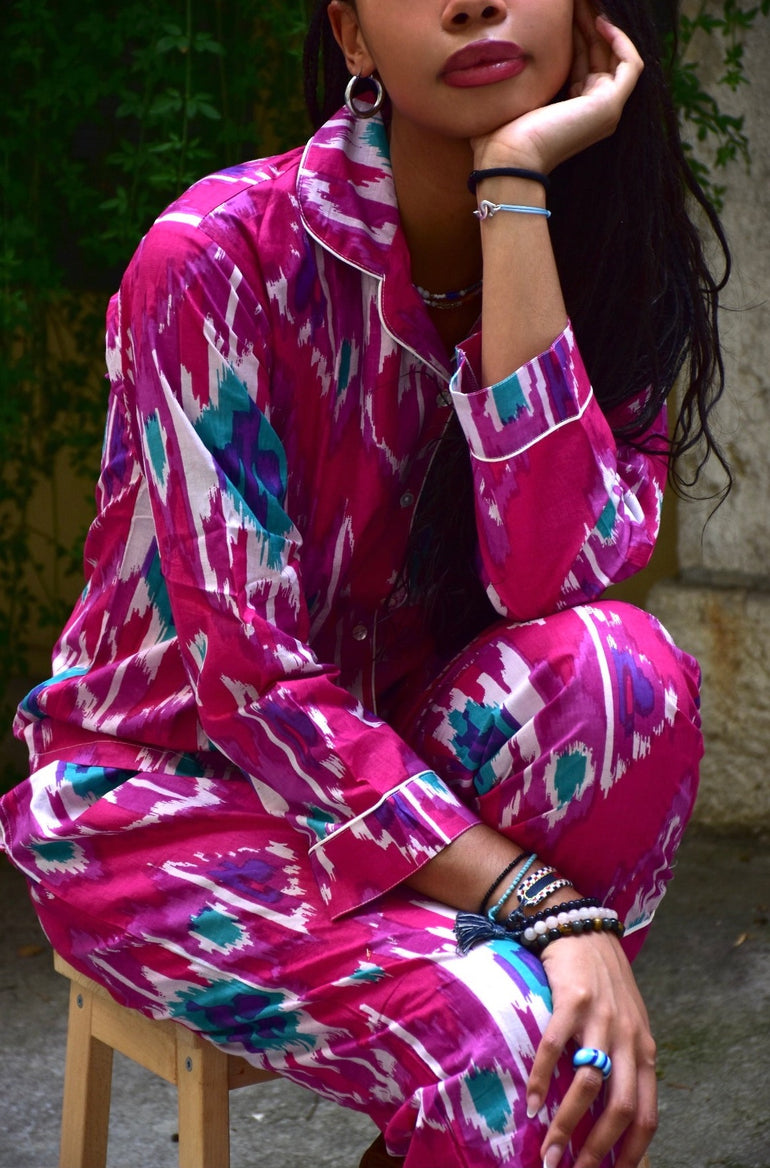 Description
Découvrez notre magnifique pyjama en coton léger, conçu pour vous offrir un confort ultime, que ce soit à l'intérieur ou à l'extérieur. Que vous soyez adepte d'une soirée cocooning à la maison ou que vous souhaitiez créer un look décontracté et tendance en ville, ce pyjama est fait pour vous.
Fabriqué à partir d'un coton doux et respirant, notre pyjama vous enveloppera d'une sensation de douceur et de fraîcheur. Vous vous sentirez à l'aise et détendue tout au long de la journée ou de la nuit, grâce à sa légèreté et à sa coupe parfaitement ajustée. Il est idéal pour se prélasser à la maison, regarder un film, lire un livre ou tout simplement se reposer.
Mais notre pyjama ne se limite pas à être porté uniquement à l'intérieur. Son design polyvalent vous permet de l'associer de manière créative à vos tenues décontractées. Osez dépareiller le haut avec un jean ou une jupe, ou mélangez le bas avec un t-shirt ample pour un look à la fois décontracté et stylé. Vous pouvez laisser libre cours à votre imagination et créer des combinaisons uniques qui reflètent votre propre style.
L'élégance et la simplicité sont les maîtres mots de notre pyjama en coton léger. Sa conception épurée et ses finitions soignées en font un vêtement intemporel qui vous accompagnera saison après saison. Vous pouvez compter sur sa durabilité et sa résistance pour en faire un choix judicieux pour votre garde-robe.
Que vous soyez à la recherche d'un pyjama confortable pour vous détendre chez vous ou d'une tenue originale pour vos sorties, notre pyjama en coton léger est le choix idéal. Profitez de la sensation de douceur sur votre peau et du style décontracté qu'il apporte à votre look.
Taille : Buste : 53cm. Bras : larg : 19cm, long : 45cm. Hauteur épaule-taille : 58cm        Bas : longueur : 96cm, largeur : 43cm

Made with a lot of love and a little magic ⋆
All our creations are imagined with a lot
of good vibes so that you never forget how beautiful and unique you are! Our parts are delivered in a cotton cloth and
garanties 1 an ☾
We are here!
Don't hesitate if you have a question! We will be happy to answer it! You can join us thanks to the chat, by email to
info@jolly-jungle.com or by phone +41 79 277 54 78 ♥
Shipping and return
Your order is shipped within 48 hours and shipping is free in Switzerland and everywhere in Europe!
Isn't that what you were waiting for? No worries, you can return your order within 14 days!
---
Free shipping in Switzerland and Europe!